At times life's frustrations and problems can feel so overwhelming despite our best efforts to resolve them. You're tired of feeling this way and know there's a better, brighter life possible yet we simply lack the insight to resolve these problems. Now might be the right time to enlist the aid of an experienced, compassionate therapist to overcome any challenges you might be trying to deal with.
When you meet the right therapist in Victoria BC they will be your ally in getting the life you deserve knowing
You feel safe and at ease in their calm and accepting space
Help you see the bigger picture and how to take effective action in improving your life
You will see yourself as a more competent person and capable of living well
Show you effective ways to help you work through complex issues with happier outcomes
Assist you to feel a sense of relief and build resources to use in the future
Once you decide to enter counselling it can be helpful to be aware of the direction the therapy is taking, a map of sorts. Counselling theories that focus on the bigger picture and the tangible details surrounding your problems allow you to gauge your progress and include the following:
Response Based Practice will help you feel understood and more at ease gaining insights into the way you responded to difficult experiences in the past. This approach to counselling provides a deeper understanding of your behaviors and emotions in these situations.
Solution Focused Therapy can help you shift your focus away from the narrow scope of the problem and instead towards real sustainable solutions. The ways you already work through problems is encouraged using your existing strengths and abilities instead of focusing on learning new ways.
Narrative Therapy is about the way we try to make sense of our experiences by telling stories, These stories can be uplifting and encouraging or depressing and discouraging depending how you tell the stories. A narrative approach to counselling helps you downplay the stories that are holding you back and focus on the ones that help you feel better about yourself.
For those who have experienced trauma and abuse in their past, those who suffer from anxiety or want to learn to love your body find counselling can be very beneficial. Couples wanting to build a more loving relationship can also find couples counselling helpful.
For the best counselling in Victoria BC contact Heart and Oak Therapy and schedule your free consultation.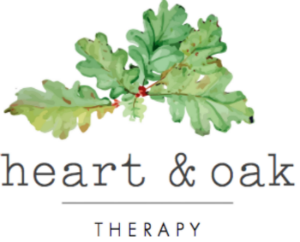 Heart & Oak Therapy
2886 Colquitz Ave
Victoria, BC
V9A – 2M1
250-896-0811